Associate Department Chair
Director of Secondary Education
Associate Professor
University of San Francisco - Doctor of Education, 2005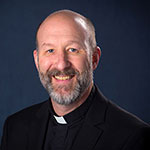 Tom Simonds, SJ, EdD is a Catholic priest and associate professor of education.
His primary teaching and advising focus is the preparation of middle school and high school teachers. Before teaching at the college level, Tom Simonds held a number of teaching and leadership positions in secondary schools. Tom Simonds is the author of more than fifteen articles on Catholic education, school violence prevention, bullying prevention, and online learning.
Books
Advent and Christmas Reflections: Ideas for Teaching the Catholic Faith in the Home, School, and Parish. National Catholic Educational Association www.ncea.org
School Violence Prevention Workbook: Stopping Harassment and Hazing. National Catholic Educational Association www.ncea.org
Selected Peer Reviewed Journal Articles
Simonds, T. A., Brock, B. L., & Engel, M. T. (2016). Peer course review as a means to support adjunct faculty in an online program. The International Journal of Educational Organization & Leadership, 23(3), 1-13.
Simonds, T. A., & Brock, B. L. (2014). Relationship between age, experience, and student preference for types of learning activities in online courses. Journal of Educators Online, 11(1). http://thejeo.com
Cook, T. J., & Simonds, T. A. (2011). The charism of 21st century Catholic schools: Building a culture of relationships. Catholic Education: A Journal of Inquiry and Practice, 14(3), 319-333. http://digitalcommons.lmu.edu/ce/