James Fletcher, Ph.D.
Associate Professor
Organic Chemistry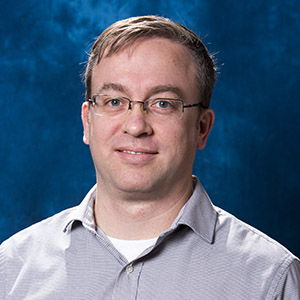 Each student project in the Fletcher lab involves the preparation of organic or organometallic small molecules for a variety of applications. Students who work with the Fletcher group will learn common techniques synthetic chemists use to prepare, isolate, purify and characterize small molecules. Some projects additionally involve running assays to measure biological activity or sensor activity, and the optoelectronic characterization of new compounds. Currently active projects include:
Development and optimization of new tandem click reactions
Development of new fluorescent chemosensors and assaying for activity towards ionic and organic analytes of biological relevance
Design and synthesis of biologically active small molecules and testing for antimicrobial and enzyme inhibitory properties
Preparation and characterization of organometallic complexes for applications in bio-imaging and drug delivery
Ph.D. (2001) University of Pennsylvania
B.S. (1996) University Nebraska, Lincoln
Fletcher, J.T.; Reilly, J.E. "Fast dye salts provide fast access to azidoarene synthons in multi-step one-pot click transformations" Tetrahedron Lett., 52, 5512-5515 , (2011).
Fletcher, J.T.; Keeney, M.E.; Walz, S.E. "1-Allyl and 1-Benzyl-3-methyl-1,2,3-triazolium Salts via Tandem Click Transformations" Synthesis, 19, 3339-3345, (2010).
Fletcher, J.T.; Boriraj, G. "Benzodiazepine Synthesis and Rapid Toxicity Assay" Journal of Chemical Education, 87, 631-633, (2010).
Fletcher, J.T.; Bumgarner, B.J.; Engels, N.D.; Skoglund, D.A. "Multidentate 1,2,3-Triazole-Containing Chelators from Tandem Deprotection/Click Reactions of (Trimethylsilyl)alkynes and Comparison of Their Ruthenium(II) Complexes" Organometallics, 27, 5430-5433, (2008).
Fletcher, J.T.; Walz, S.E.; Keeney, M.E. "Monosubstituted 1,2,3-triazoles from two-step one-pot deprotection/click additions of trimethylsilylacetylene" Tetrahedron Lett., 49, 7030-7032, (2008).
Fletcher, J.T.; Finlay, J.A.; Callow, M.E.; Callow, J.A.; Ghadiri, M.R. "A combinatorial approach to the discovery of biocidal six-residue cyclic D,L-alpha-peptides against the bacteria methicillin-resistant Staphylococcus aureus (MRSA) and E-coli and the biofouling algae Ulva linza and Navicula perminuta" Chem. Eur. J., 13, 4008-4013, (2007).
Fletcher, J.T.; Therien, M.J."Extreme Electronic Modulation of the Cofacial Porphyrin Structural Motif" J. Am. Chem. Soc., 124(16), 4298-4311, (2002).
Fletcher, J.T.; Therien, M.J. "Strongly Coupled Porphyrin Arrays Featuring Both ¹-Cofacial and Linear-¹-Conjugative Interactions" Inorg. Chem., 41(2), 331-341, (2002).
Fletcher, J.T.; Therien, M.J."Transition-Metal-Mediated [2 + 2 + 2] Cycloaddition Reactions with Ethyne-Containing Porphyrin Templates: New Routes to Cofacial Porphyrin Structures and Facially-Functionalized (Porphinato)metal Species" J. Am. Chem. Soc.,122(49), 12393-12394, (2000).
Moore, K.T.; Fletcher, J.T.; Therien, M.J. "Synthesis, NMR and EPR Spectroscopy, Electrochemical Properties, and Structural Studies of [5,10,15,20-Tetrakis(perfluoroalkyl)porphinato]iron(II) and -iron(III) Complexes" J. Am. Chem. Soc., 121(22), 5196-5209, (1999).